Ga terug naar alle personages
Meer informatie over spoilers
Op deze pagina is informatie die vinden die je misschien nog niet zou willen weten. Deze informatie is veilig verborgen in een 'Spoiler'-balkje, zodat je deze niet automatisch te zien krijgt, maar je het wel kan lezen indien je het toch wilt weten. Let wel op, als je de meest recente aflevering(en) niet gezien hebt, bestaat de kans dat deze informatie niet verborgen is.
Delphine is een huidig nevenpersonage
Tijdlijn
...
1991
1992
1993
1994
1995
1996
1997
1998
1999
2000
2001
2002
2003
2004
2005
2006
2007
2008
2009
2010
2011
2012
2013
2014
2015
2016
2017
2018
2019
...
Donderdag 19 december 2013 S23E084 (#5189) - heden: Nevenpersonage
Donderdag 19 december 2013 S23E084 (#5189) - heden: Annelore Crollet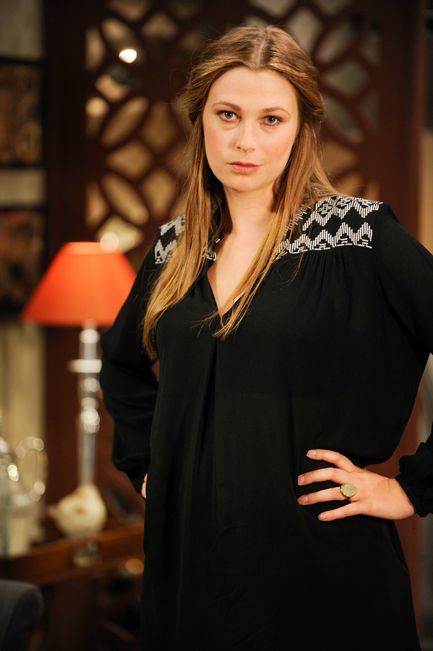 Delphine is de dochter van Agnes Moelaert, Mathias Moelarts zus.
Algemeen
Delphine is de enige dochter van Agnes en het nichtje van Mathias. Ze was een moeilijk kind: het feit dat ze moest opgroeien zonder vaderfiguur zal daar zeker voor iets tussen gezeten hebben. Haar vader pleegde zelfmoord toen ze klein was. Ze herinnert het zich vaag en heeft het nooit kunnen plaatsen. Ze weet wel dat haar nonkel Mathias er voor iets tussen zat. Het verhaal ging in haar hoofd een eigen leven leiden. Delphine ging Toegepaste Economie studeren, zonder veel moeite, maar nooit echt gepassioneerd. Ze is mooi en ze kan mensen naar haar hand zetten als de beste. Delphine houdt vooral van Delphine: op zichzelf kan ze altijd rekenen. Dat maakt ook dat ze zich met momenten oprecht alleen en eenzaam voelt. Delphine heeft ook een persoonlijkheidsstoornis - borderline - waarvoor ze medicijnen neemt. Ze weet zelf wat er gebeurt als ze haar medicijnen niet neemt en wanneer ze dus wraak wil nemen op Mathias, neemt ze haar medicijnen opzettelijk niet.
Ad blocker interference detected!
Wikia is a free-to-use site that makes money from advertising. We have a modified experience for viewers using ad blockers

Wikia is not accessible if you've made further modifications. Remove the custom ad blocker rule(s) and the page will load as expected.